Summer Trends Any Mom Can Pull Off
I am super excited to be guest posting for Heather on one of my favorite mom blogs, Glitter and Gloss! I'm Audrey, a fellow mom and creator of
Spilled Milk Style
, a blog for stylish moms despite all the spilled milk!
Spilled Milk Style
is a fashion, style and lifestyle inspiration blog for moms.
Today I'm discussing 5 hot summer trends that any mom (or any Glitter and Gloss reader) may easily incorporate in their everyday style.
Here's a little secret, moms can be trendy! I know it's hot outside and the last thing you want to do in the morning when your toddler is screaming "PANCAKES" in your face is plan a trendy outfit. So here are 5 summer trend items that can be easily incorporated in any daily wardrobe.
The first is the neon trend.
A pop of color will brighten any mom's day! Pair an easy neon t-shirt (Gap or Target) with your favorite shorts or capris or add a skinny neon belt for instant on trend chic. Here I am with a neon yellow belt from Target and a wrap bracelet from Free People.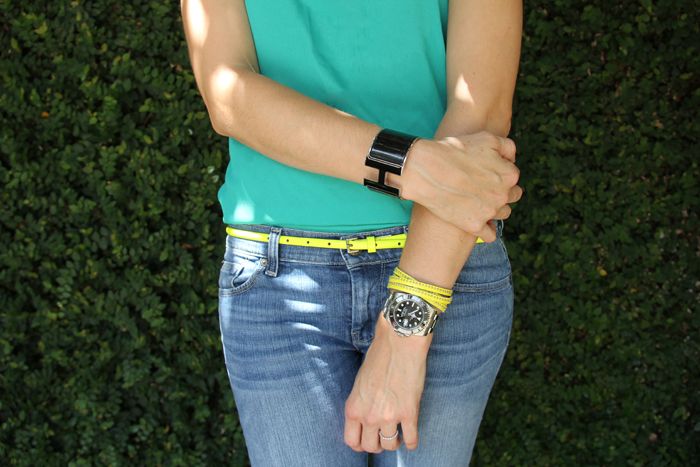 Cross Body bags
are a very useful trend item for moms. My two year old son asks "hold you" when he wants to be picked up. The cross body bag makes this so much easier than trying to balance him and and a diaper bag. There are so many different styles, colors and price points to choose from. Here I am with 3 cross body bags:
This is my Chanel Flap bag in the large size. I've had this for almost 4 years and never wore it this cross body way until I had Conrad.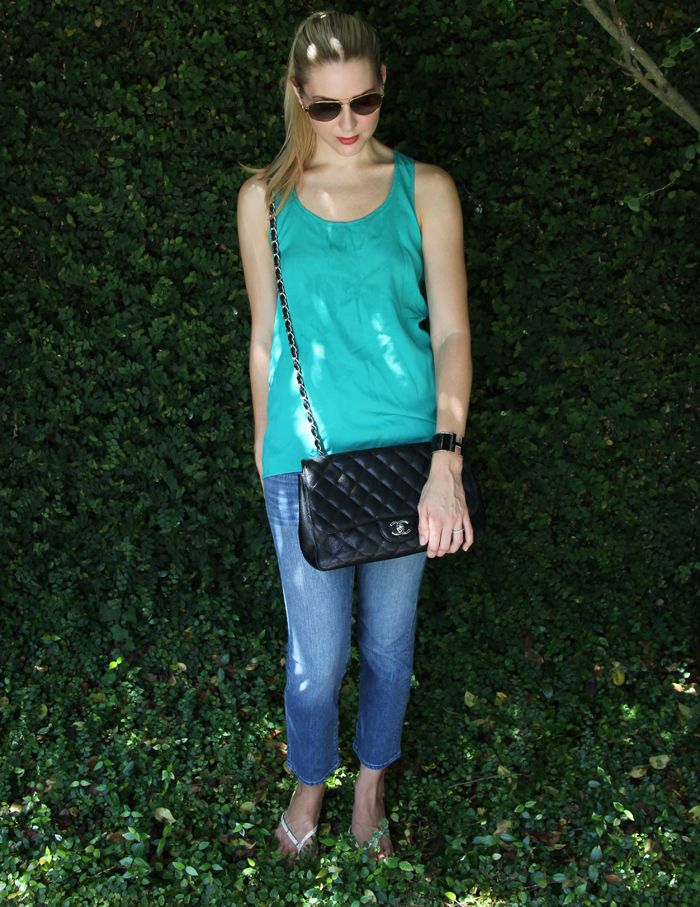 Here I am showing two trends in one with this neon cross body bag by
Cambridge Satchel and Co
.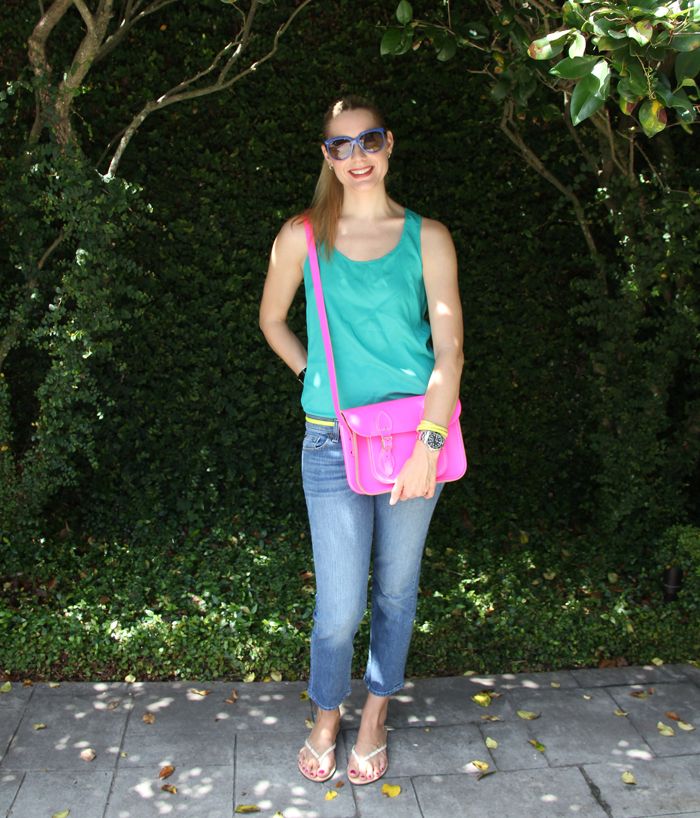 And last is my latest investment bag, The Celine Nano Luggage in Vermillion.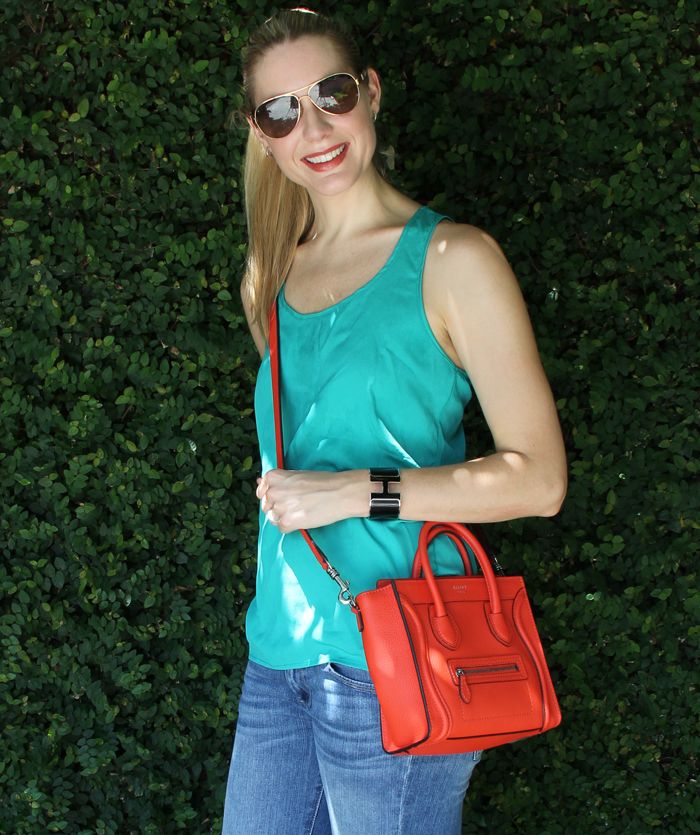 Loafers or "Smoking Slipper"
have been dubbed as the next big flat since last spring. They're still going strong and will be so into Fall/Winter. Loafers are the perfect alternative to the ballet flat and will give your outfit a definite on trend look. I was a little hesitant about pulling these off but also felt the same way when the ballet flat was first trendy years ago. I found the perfect velvet blue loafers by
Del Toro
. They go with so much and are super comfortable (after I added a heel grip, which I normally have to do with flats.) I can chase around my busy two year old, Conrad, no problem! Plus because they're velvet I can definitely rock them in the Fall. I recommend wearing with shorts or capris now and skinny ankle jeans in the Fall. Here I am in my Del Toros: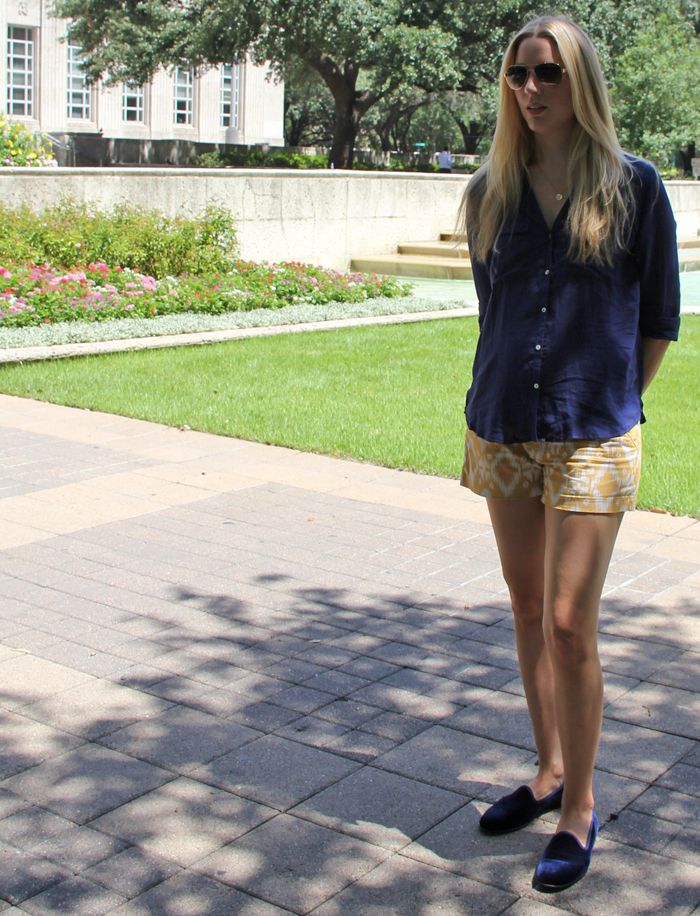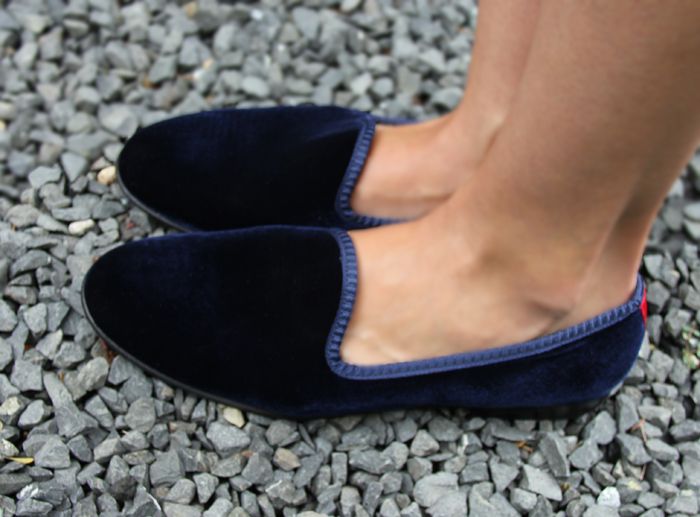 Bracelet stacks
are a trendy way to easily display your favorite bracelets. For moms I suggest to keep it more simple than the teens. Don't overdo it and limit 3 to 5 depending on size and I usually add a watch. For those with crafty children making friendship or beaded bracelets is great DIY project to do together. Plus a very special way to display your child's craft talent!
Great DIY friendship bracelet tutorial here
. Here are a few of my bracelet stacks: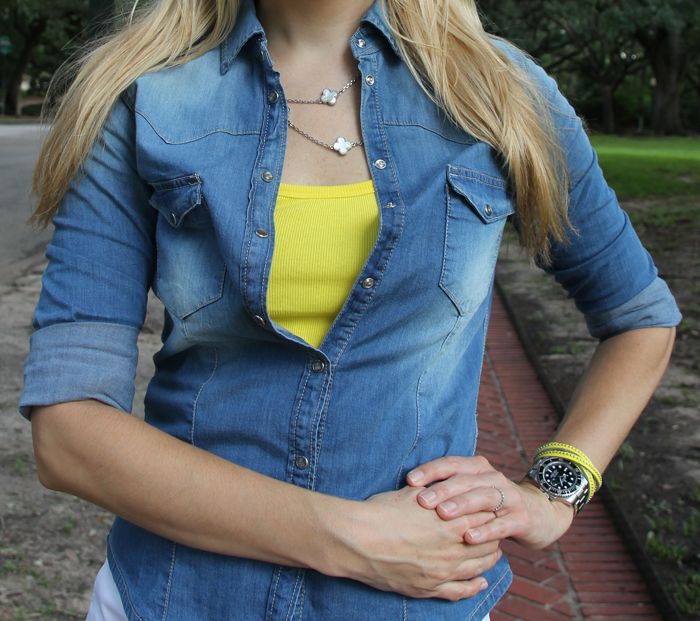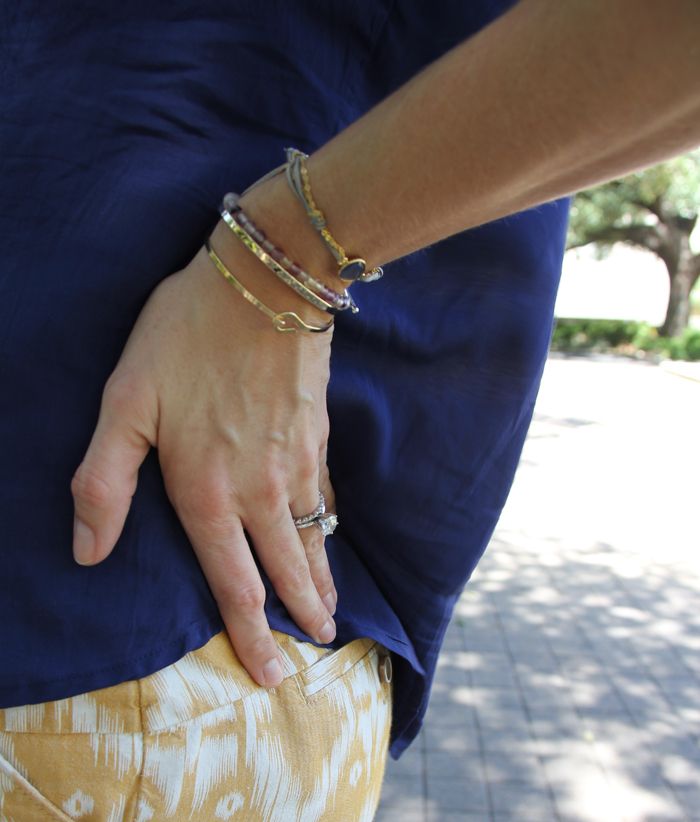 The last trend is fun nailpolish color.
I know I don't need to say much about this trend to Glitter and Gloss readers as you guys are experts! But for anyone hesitant I suggest to try a solid color first. I find blues actually work as a great neutral. Once you get your feet wet be bold and try for yellow, or bolder and try a great pattern like Heather rocks!
Here's Essie Turquoise and Caicos on my toes.
And here's Essie Lapiz of Luxury on my nails. This is my favorite colored neutral.
Thanks so much to Heather for allowing me to be a guest on Glitter and Gloss. Hope you all enjoyed my top 5 mom style summer trends!
Best,
Audrey,
Spilled Milk Style